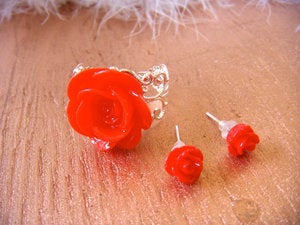 $

10.00 - On Sale
Here is a lovely set of Red Rosette Earrings and Silver Adjustable RIng. These earrings are the smaller 6mm rose on lead-free, nickel-free posts with clear plastic backs. The ring is a silver adjustable ring with a 19mm rosette. It will fit aprox. size 5-9. These will turn into an instant Classic piece of Jewelry to enjoy for years!
Beauty for a Bargain!
What you see is what you get! No duplicates here! Each piece is original.
These are starting to become the new fad so grab one quick!
Thanks for looking! Please check out our blog at babblingsandmore dot blogspot dot com.