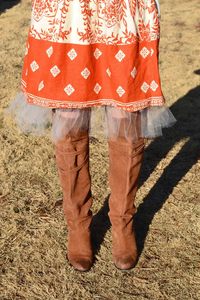 $

25.00 - On Sale
Here is a Ivory Tulle Slip to make any dress or skirt a little more fancy. It is trimmed with a gathered White Ribbon on an Ivory Slip. It also has an elastic waistband making it more versatile by adjusting it on your waist to cover many different dress lengths.
The standard length for this slip is 24"-25". Petite is 21".
Sizes XS, S, M, L, XL
Can make a custom order of any color of Tulle and Ribbon. Feel free to Email with any questions.
When ordering please leave size, color and any other details in the comments section.